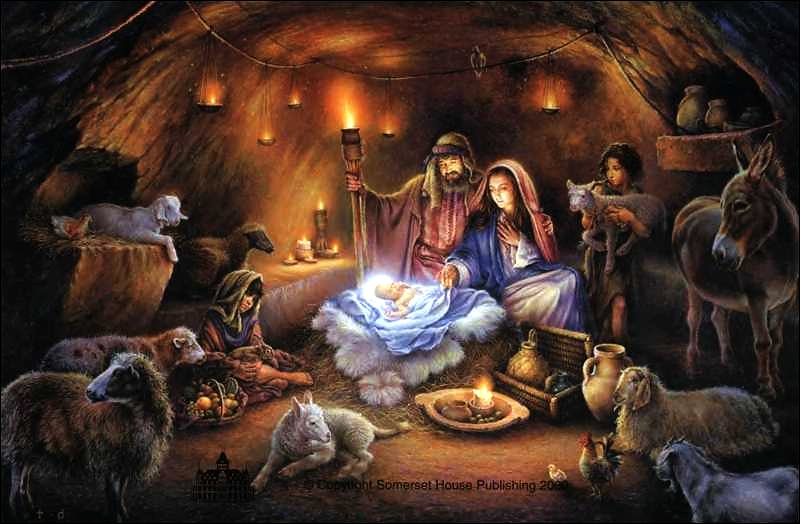 Last night we had our cell group meeting, kind of impromptu and unclear as to whether this was a Christmas party or not. As we awaited the arrival of everyone, we sat in our living room. I don't set up a Christmas tree but rather have a Nativity Scene. This let to a discussion of its origins. Apparently the first Nativity Scenes were done by St. Francis of Agassiz and they were live people. His reason for promoting the nativity scene was that the true meaning of Christmas was being forgotten. People had become more interested in gift exchanging. I think we have come full circle.
Why do I chose to put up a Nativity Scene instead of a tree? Because it is a conversation starter. Some people who come into our home are amazed to see it. You celebrate that? You believe that? Which then leads to 'why is the baby Jesus already there?' Catholics only place the baby in the scene on Christmas day because that is when he arrived.
I think we need to return to St. Francis' idea and bring people back to the real meaning of Christmas. Let's quit arguing about some coffee chain and their 'non-Christmas' red cup. Let's put up our scenes in a prominent place and talk to our children about the story. Let's explain why we celebrate and, like from centuries ago, leave it up all year. Then let's tell the story again and again. Then let's not forget what comes next - Easter! He came (incarnation), but the most important part is His death and resurrection. It's a story worth repeating and repeating.
Porfirio and Teresa
Jessy, Diane, and Alison
Joaquin and Marta
Eduardo and Carmelita
supper and Christmas songs
fellowship around the table
Diane's Nativity scene