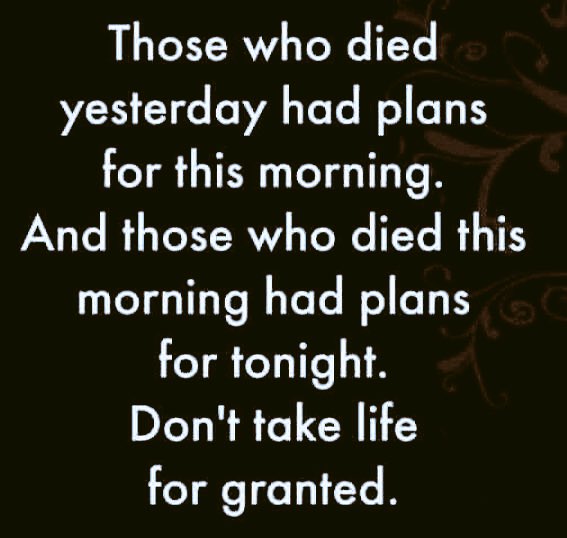 This weekend we said good bye to a dear friend from the fitness gym. In our minds he was healthy, strong, young, and certainly not the one we expected to go. They were to leave for Europe, on holidays, instead, less than 24 hrs before boarding the plane, my good friend had a series of heart attacks, and passed away.
There is ONE sure thing - we are ALL going to die one day - unless the Lord comes back first. We don't know whether we will die young, or old, of illness, or accident, will have time to say goodbye, or be ushered into eternity in the blink of an eye.
So, if the when and how is unpredictable, but the fact that it will happen is, what are we doing to prepare for it? Too many of us go thru life thinking we have more time, thinking it won't happen to us (at least not yet), and we 'walk thru that door' unprepared.
Based on my understanding of scripture, God created humans with freewill. In fact, we get to choose to have a relationship with Him, or not. We get to choose whether we want to spend eternity with Him, or not. BUT, that choice has to be made this side of the grave - and God respects that choice, even though He longs to have us live in fellowship with Him.
The Bible starts in paradise (Genesis 1) and ends in paradise (Revelation). Everything in-between narrates the story of God's amazing efforts and plan to restore that which was lost (when humanity chose to exercise its freewill and fall into sin). We have been given a way to restore the relationship. We can accept God's free gift of salvation, and then embark on a journey with Him, that culminates with our passage thru the gates of death into eternal life. BUT, it's not automatic, it won't happen against your will. YOU have to appropriate it, embrace it, pursue that relationship of dependence and obedience with God - while you're still 'here'. Make plans, but make sure your plans include God, and His plan for your life. Then leaving this world will mean being ushered into something incredibly better, being in God's presence for the rest of eternity!
So, what are you doing TODAY? What are you leaving for tomorrow, that you should be doing today? Not saying the words that need to be said... "I love you, thanks, you mean the world to me, thanks for walking with me, I appreciate you..."? Are you putting off going for lunch with someone? Have you told your loved ones, recently, that you love them? Have you tried to fix that broken relationship? Have you forgiven, or do you live with bitterness?
I remember my last conversation with my friend on Friday. Neither of us thought it would be the last time. What got left unsaid? How about the people in YOUR circle? Have you left things unsaid or undone, thinking you always have tomorrow?
Make sure to make each day count, and make sure that you also prepare for eternity. Hope to see you there!